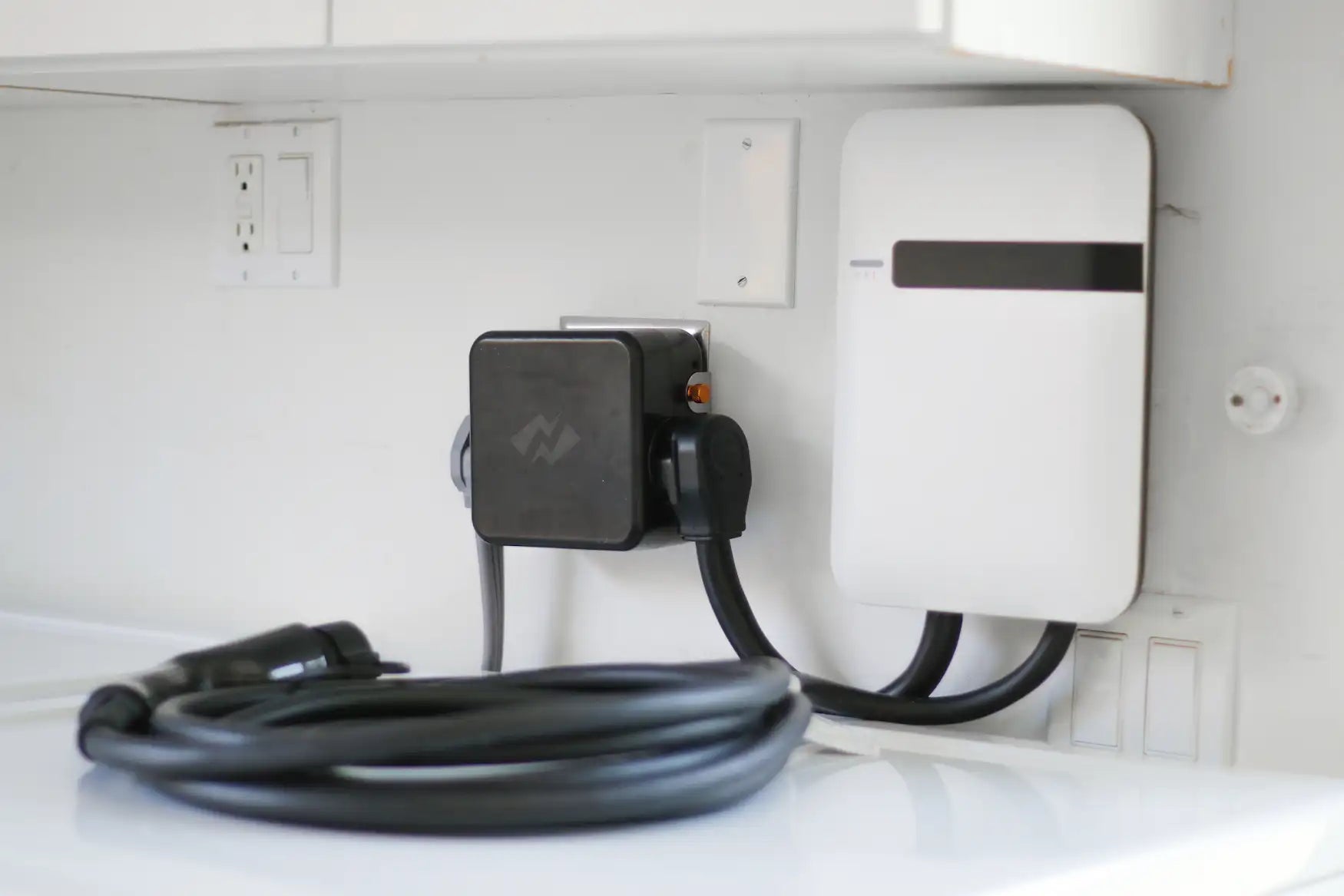 NEOCHARGE SMART SPLITTERS
Save Money on Home EV Charging By Avoiding Panel Upgrades
With the Smart Splitter you can easily share your existing 240V outlet with your dryer and EV or two EVs. Self installable in minutes and the only UL Certified Splitter on the market.
DISCOVER SMART SPLITTERS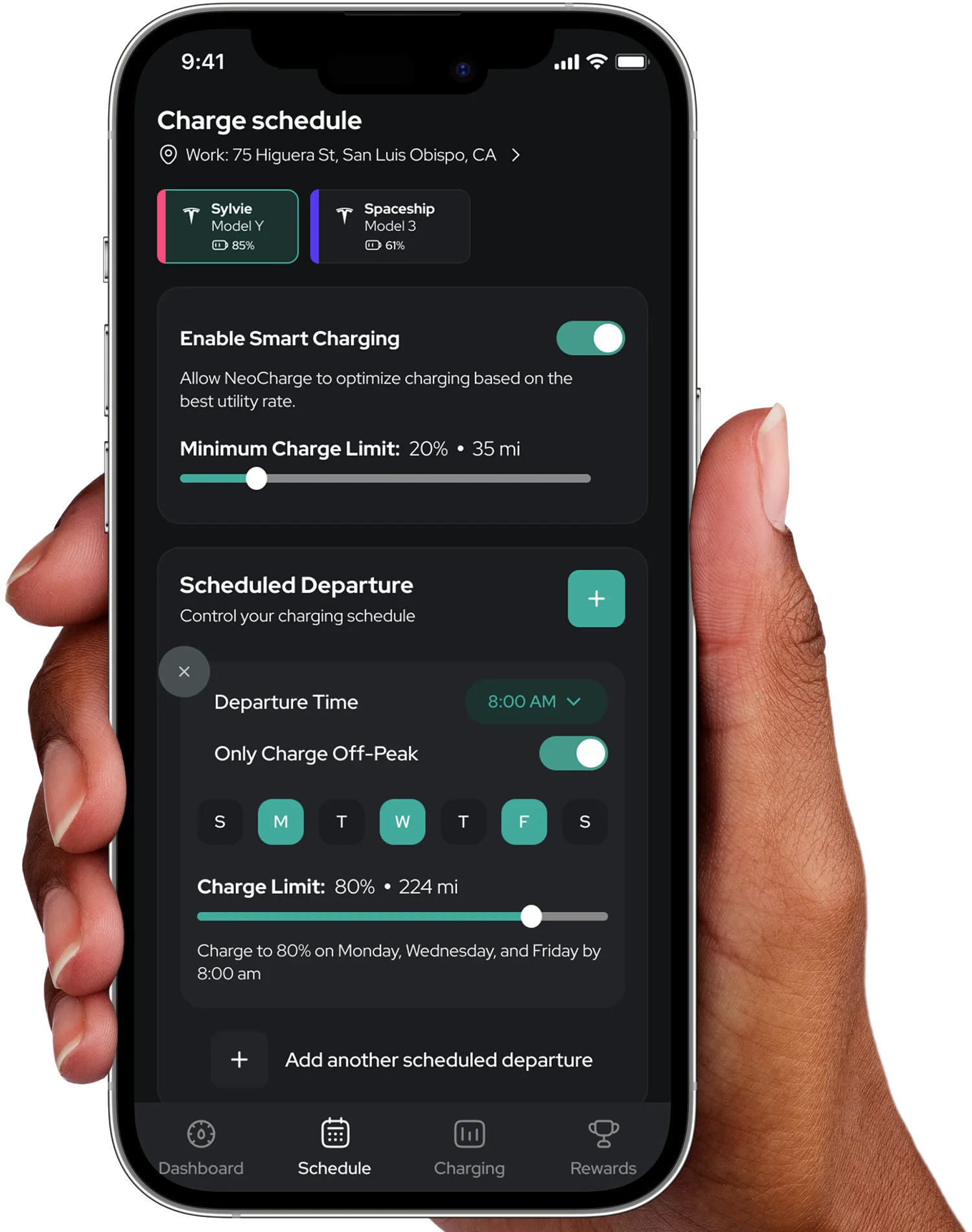 NEOCHARGE CONNECT APP
Smart EV Charging Scheduling App Coming Soon
Track your home charging stats, charge up with savings, and control your EV(s) all in one place. Effortless to connect and it's completely free.
GET EARLY ACCESS
PLUG AND PLAY EV CHARGING
Self Install. Save Money. Take Charge.
Experience effortless home charging installation with the only UL safety certified Smart Splitter, featuring auto-switching for circuit protection.
GET FASTER HOME EV CHARGING ACCESS
80%
of People Avoid a Panel Upgrade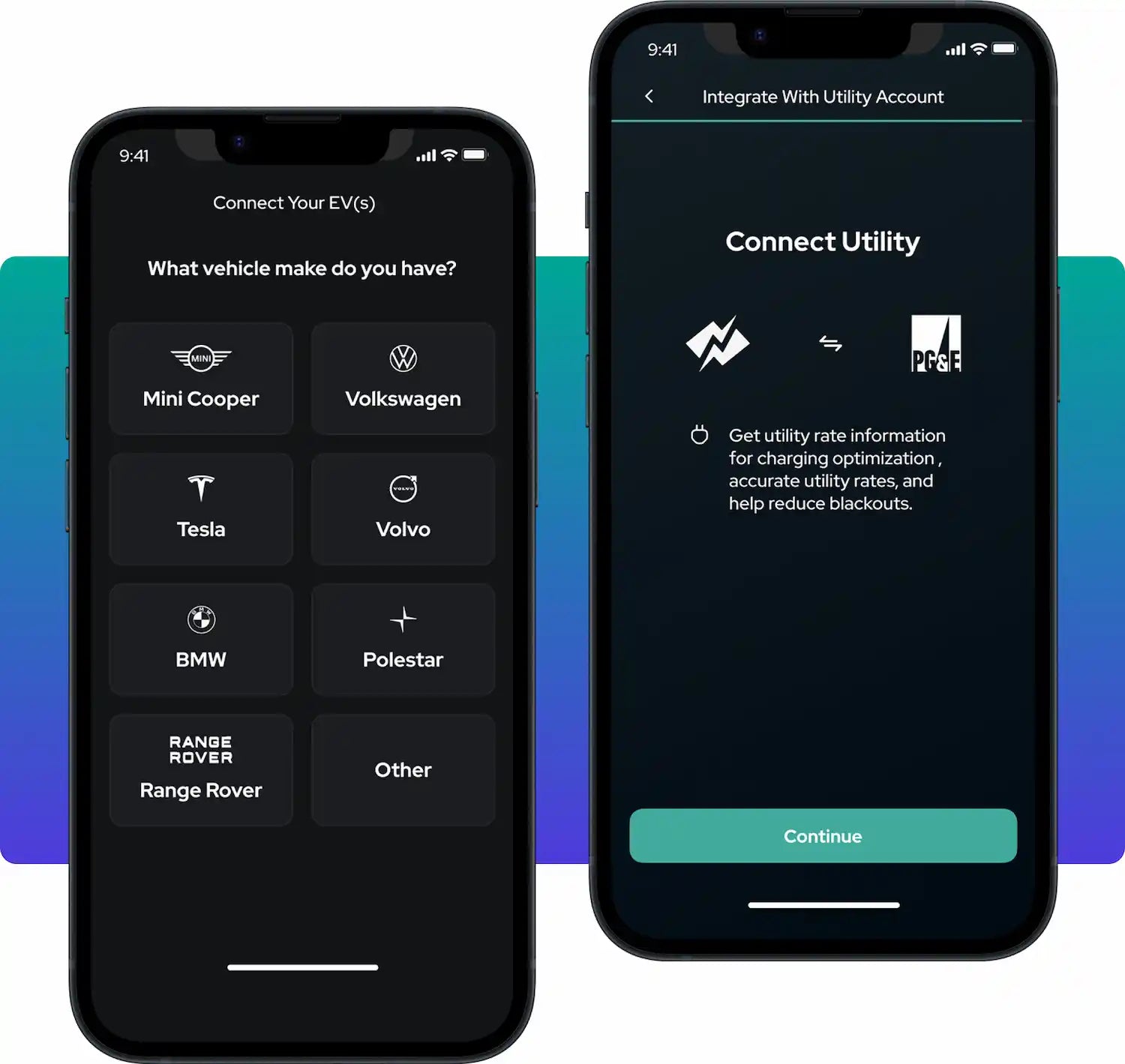 NEOCHARGE CONNECT APP
Sync Your EV and Utility Account
Track your home EV charging stats, charge up with savings, and control your EV(s) all in one place. Effortless to connect and it's completely free.
LEARN MORE
HOW IT WORKS
Smart Splitter Auto-Switching
Auto-Switching With Dryer
The Smart Splitter will automatically pause EV charging when the dryer is turned on. Once the dryer completes the cycle, the Smart Splitter will then resume power to the EV.
Auto-Switching With 2 EVs
With two EVs plugged in at maximum amperage (32-40 amps) the Smart Splitter will fully charge the EV on the Primary side before switching to the EV on the Secondary side.
THE ONLY SMART SPLITTER WITH POWER SHARING - HOW IT WORKS
Power Sharing Between 2 EVs
Set your EV charger(s) or EV(s) to 20 amps or less (half power) to allow for simultaneous EV Charging. The Smart Splitter ensures both cars can charge at once without tripping the breaker.
Real reviews from our customers
Saved Me From Installing Another Circuit
"Just bought a new Tesla and needed a way to charge it without paying for a new outlet installation or doing it myself. I planned to use the dryer, which wasn't the most convenient but was cheaper. Then, I found this 240V splitter.
It works great! I ran a 25-foot extension cord through the laundry room ceiling to the outside. I like that it defaults to the dryer, so my wife doesn't have to do anything different when using the dryer."
Excellent Solution to a Costly Problem!
"Bought my Tesla Model 3 and Tesla charger, only to discover my circuit box couldn't handle an additional 240V circuit. The smart meter and main circuit breaker couldn't handle the increased voltage needed. This unit was the ideal solution!

I use my current 240V dryer plug – the smart plug can supply 240V to either my charger or the dryer! No city permits to get, no $15k upgrade to my electric panel! This is sheer genius!"
The best solution out there for charging at home
"I called multiple electricians for an estimate on adding an outlet for charging our car, but the minimum cost was $2500.
A friend recommended this solution, and it worked perfectly for me, right out of the box. No setup needed, no issues. I can now charge my car whenever the dryer is not in use, without the hassle of manually switching those huge 14-30 cables between the car charger and dryer."
Does the job very well
This smart switcher does exactly what it says. When the EV is plugged in and someone wants to use the dryer, it pauses the EV charging and activates the dryer. When the dryer finishes, the EV starts charging again automatically. I had a minor issue during the first couple of days, but no harm was done, and I've been using it for months now without any problems.""
Awesome AF
"This product is fantastic. I needed an automatic, foolproof solution for my PHEV charging and a dryer in our garage with a rented apartment above. This device gives priority to the dryer, then reroutes power to the EV charger when the dryer is done. No issues, no programming, just plug in.
It includes an easy-to-install bracket to prevent unplugging due to weight. The UL rating is crucial for safety, especially with an EV and gas cans in the garage. This is an awesome solution."
Great option for two EV one plug home
"Love that my wife and I can both plug in and when here car is done charging in the middle of the night it will automatically switch to charging mine and start charging. No need for a second outlet/charger."
Love this thing!
"I use a 50amp plug for my charger and in the winter I also use it for a garage heater.
I was always nervous about swapping the plugs back and forth and then having to remember to come back in and swap them out after the charge finished. This little guy was easy to install and does exactly what I need. I love it!"
Great device
"Great idea - I saw similar ones on Amazon but liked that this was was UL listed. The run from the dryer outlet to the garage was much shorter than the run to the breaker panel, and using this device saved from having to modify the panel.
Another plus - this box actually routes some power to both the dryer AND the EV charger at the same time, so the panel LEDs, display, etc. work on both. It's only when one of the devices pulls high current (EV charging or dryer on) that the internal contactor switches the power over to it."
Best way to plug my EV in at home
"Excellent solution and good-looking splitter. Saved me from spending $2100 on an additional 240V/30A circuit in my garage. I used an extension cord for my Ford Mach E, cutting charging time from 24 hours to 6 hours.
The auto-switching is great; it stopped charging when my wife used the dryer and resumed automatically afterward. Lastly, the customer service was top-notch, with friendly staff who answered all my questions."
Which Smart Splitter is right for you?
Take this quick 3 minute survey to see if the Smart Splitter works for your home EV charging setup.
CHECK COMPATIBILITY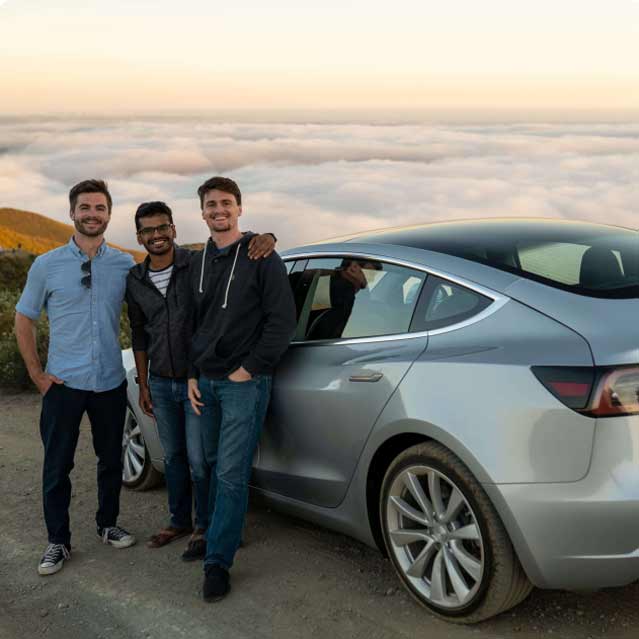 TEAM NEOCHARGE
We're doing our part to enable electrification.
NeoCharge is here to put the power in your hands. Our team is fired up to continually provide hardware, software, and education around home EV charging, so going electric can truly be effortless.
ABOUT US
Resources to keep you charged up: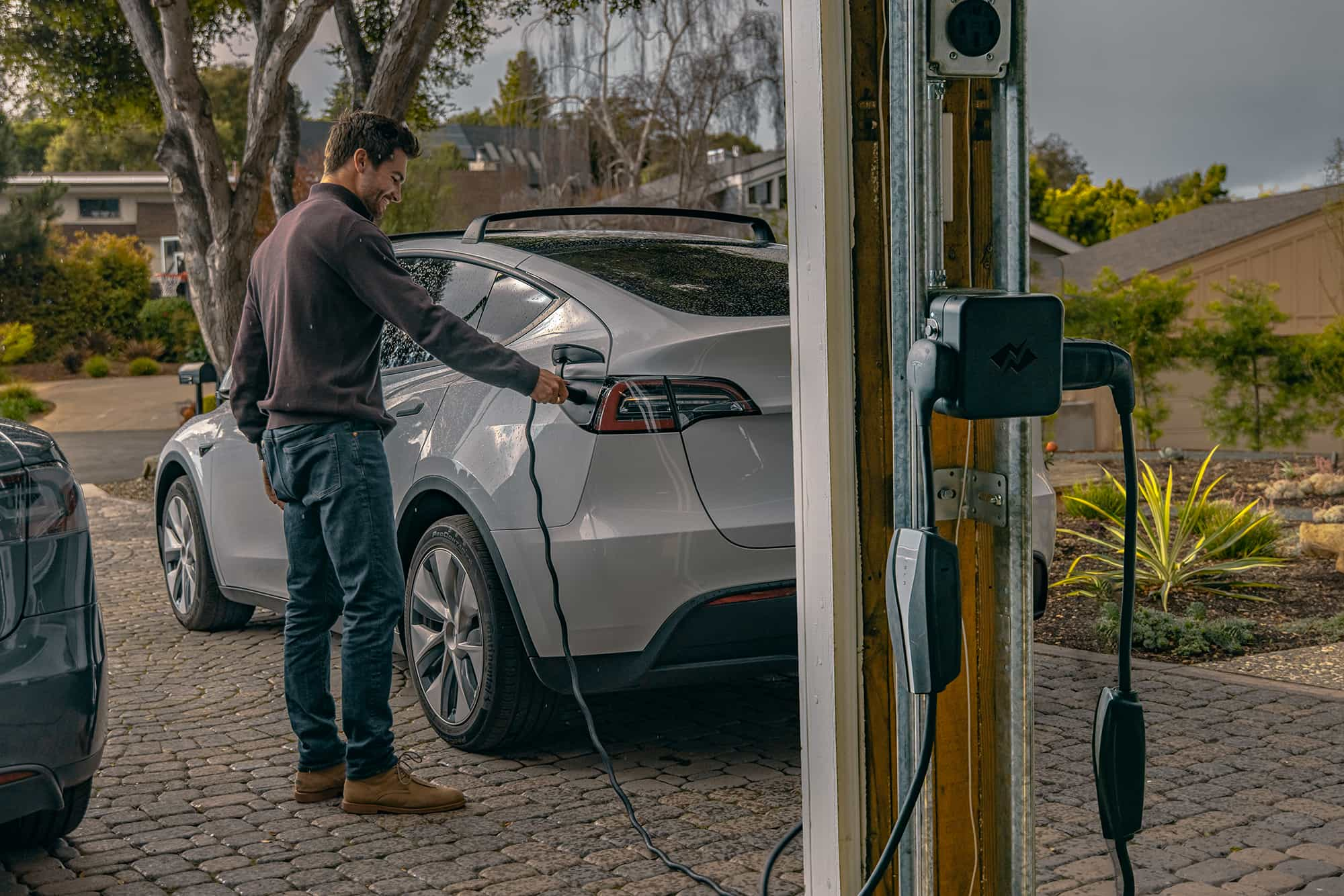 How to Install an Electric Car Outlet for your EV Charger
Find Level 2 Home EV Charger Rebates By Utility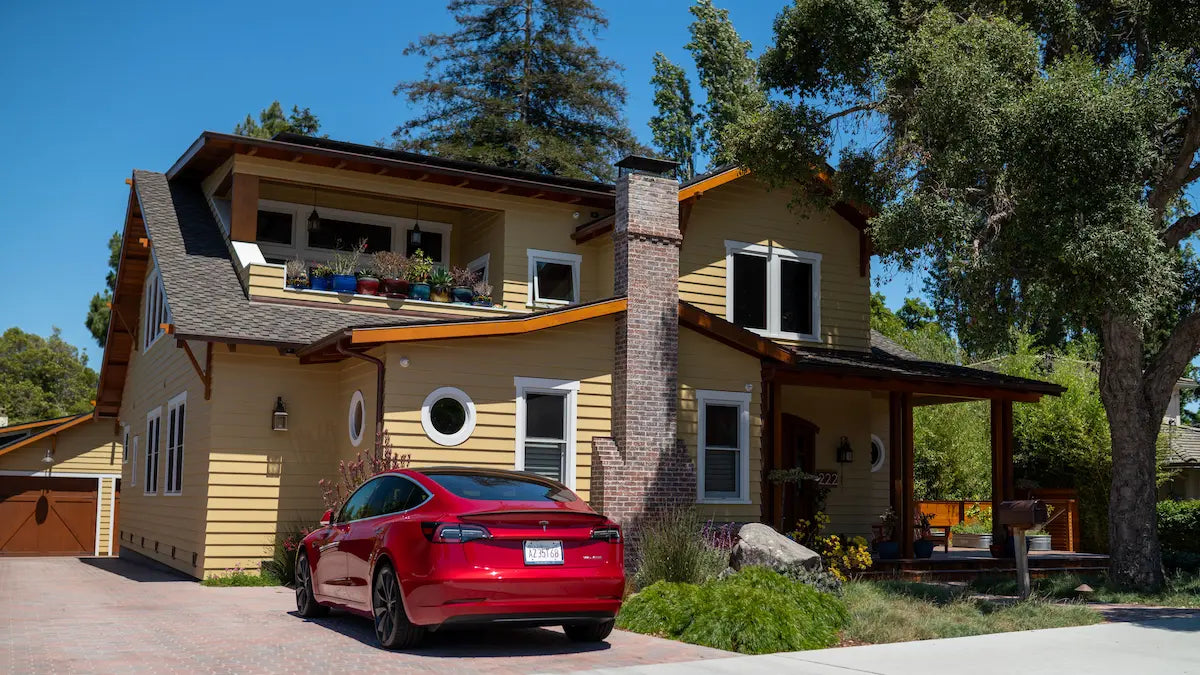 How Do You Charge an Electric Car at Home?